Illegal Encampment Evicted In Milton Keynes
12 October 2018, 12:08 | Updated: 12 October 2018, 12:09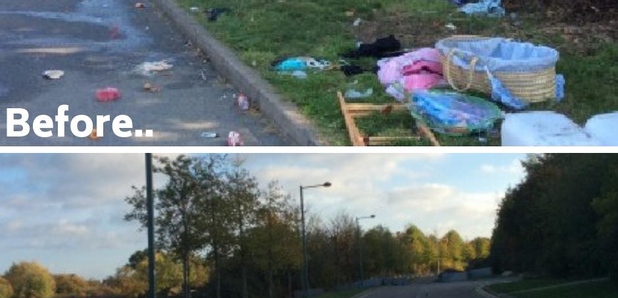 Bailiffs were called in at Pendeen Crescent to remove the group this week and waste removal teams were quickly sent in to clean up the site.
Milton Keynes Council have evicted an illegal encampment in Tattenhoe
Bailiffs were called in to Pendeen Crescent to remove the group this week, with waste removal teams quickly moving in to clean up the site.
The travellers were originally handed an eviction notice in the summer after being a nuisance for local residents.
Since the start of the year 152 notices have been served on encampments here.
Earlier this month the council published a list of the first eight MK sites that will receive additional physical defences against unauthorised encampments, part of a £250,000 investment. Barriers including concrete blocks, gates, fences, earth 'bunds' and trenches will installed in open spaces to dissuade unauthorised access.
The specialist clear up by council contractor Serco has already taken place removing household items as well as burned trollies and fuel cans.
Cllr Pete Marland said "Residents will be pleased to see the back of this encampment as they've had to put up with a great deal of anti-social behaviour. I understand why people want us to evict camps immediately but evictions have to be done through courts and it's not an overnight process."
"Prevention is important, which is why work has already started to help protect vulnerable open space in MK from unauthorised encampments. But a determined group will get past defences, even two-tonne concrete blocks."
"In some cases outrageous behaviour such as burning cables continued despite physical barriers and our current best efforts. That's why we've committed to collecting evidence to take to court and seek injunctions. That takes time and isn't easy but we won't stop trying because we understand and share the real frustration of residents on this issue."
"We'll keep working closely with Thames Valley Police to track evidence for, and stop, environmental crime and wider criminal activities. People who break the law need to face justice."
Pic: Before and after photos of the clear up of this site.