MK Mum Raises Money For Hospital
31 July 2017, 08:10 | Updated: 31 August 2017, 10:18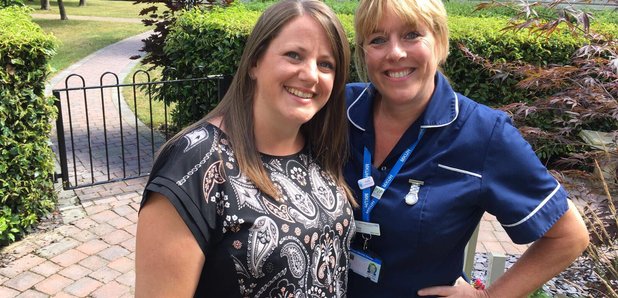 A mum based in Milton Keynes has raised thousands of pounds for the hospital who cared for her when she lost her son.
A mum based in Milton Keynes has raised thousands of pounds for the hospital who cared for her when she lost her son.
Katie Simpson started fundraising for Milton Keynes Hospital Charity six years ago in memory of her stillborn son Charlie, and to say thank you to the doctors and midwives who took care of her family.
She set out to raise funds for a bereavement suite at the hospital - now up and running and called the Butterfly Suite - through a series of pamper days and other events.
She told us why:
"When we had Charlie there wasn't a bereavement suite for us to use.
We were just in a normal room on the labour ward, which was very difficult in it's self being next door to other mums giving birth and hearing those baby cries.
...The bereavement suite is an area away from the hustle and bustle of a busy labour but also within the facilities so the midwives are there to care for the mums."
Now Katie holds a fundraiser each year to mark Charlie's birthday, raise funds and support others who might need to use the hospital's bereavement services.
Katie said: "The hospital provided us with keepsakes and mementos for Charlie such as a memory book with photos, a baby blanket, hand and foot prints, and a set of framed foot casts which we will treasure forever.
"Without fundraising, the hospital would be unable to provide these items that are so very important to bereaved parents and help with the grieving process. Charitable funds will now ensure that all families who have to face what we did will also get these precious items for their baby."
Katie has been supported every step of the way by bereavement midwife Tracy Rea. She said: "Tracy supports all bereaved parents through the loss of a baby and the support she's given me has been invaluable.
"Tracy was with us when I gave birth to Charlie, and throughout my following pregnancies and births of our sons Thomas and Ethan, who were both screaming loud and clear! She's an amazing person and it's so nice for me to give something back by supporting bereavement services."
Head of fundraising Vanessa Holmes said: "Thank you so much to Katie and her family for all of their support. They have truly gone above and beyond in helping people going through experiences similar to their own.
"Fundraisers such as Katie help us make a truly remarkable difference to our patients and their families, thank you."
Katie has recently started volunteering on the maternity ward, supporting new mothers with breastfeeding and will also continue fundraising for the hospital charity, aiming to hit the £10,000 mark next year!
You can find her Just Giving page here: https://www.justgiving.com/fundraising/charlieethansimpson
Pic:
Katie Simpson with bereavement midwife Tracy Rea.