Thatched Building Fire
10 July 2013, 19:51 | Updated: 11 July 2013, 10:59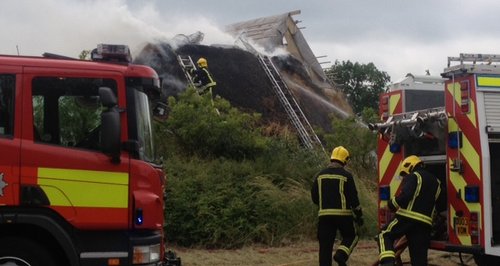 A fire at a derelict former pub at Thornborough near Buckingham is being treated as suspicious.
Forty firefighters were called out to fight flames at a thatched outbuilding next to The Lone Tree Pub, which has been closed since the main building was damaged in a fire in 2007.
The fire on the afternoon of Wednesday 10 July 2013 meant a section of the A421, connecting Buckingham with Milton Keynes, had to be closed.
Fire crews from Buckingham, Winslow and Milton Keynes were called to the fire shortly after 2.30pm along with a number of special appliances from Aylesbury and Waddesdon.

The roof partially collapsed and the crews had to remove the thatch in order to put out the fire.

Station Manager Jeremy Williams, the incident commander, said: "It is an arduous process, which has to be carried out meticulously and carefully.

"A thatched roof is designed to repel water, and the thatch expands to about six times its original volume when removed."

Crews have been using jets and hose reels to extinguish the fire and a Bobcat utility vehicle to clear the thatch away from the building.

Many of the crews remained at the scene for about five hours before handing over to a relief crew from Broughton, which finally left at 10.15pm.