Watch 10-Year-Old Twins Meet For The First Time After Being Separated From Birth
12 January 2017, 12:19 | Updated: 13 January 2017, 10:15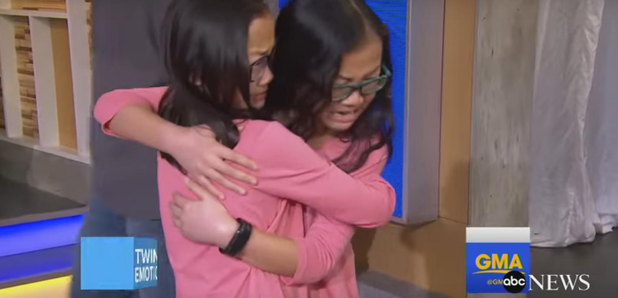 Two sisters, each adopted from China by different American families, meet in person for the first time.
Imagine growing up your whole life not realising you had a sister, let alone a twin sister - lat alone an identical twin sister!
That's what happened to 10-year-old Audrey Doering and Gracie Rainsberry, who were adopted from China by two different American families.
WATCH: Incredible moment as two twins, separated at birth, meet each other for the very first time LIVE on @GMA. pic.twitter.com/wILAuUzTem

— Good Morning America (@GMA) January 11, 2017
Unbeknownst to their adoptive families, the girls were separated with no idea that the other existed.
It wasn't until December last year when Audrey's adoptive mum, Jennifer Doering, discovered a photograph of her daughter and another identical baby posing on the knee of her Chinese foster mother.
Setting herself a mission, Jennifer began tracking down her daughter's missing twin from her home in Wausau, Wisconsin.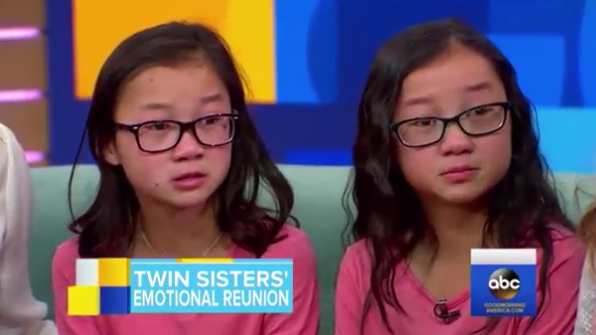 Picture | GMA
Jennifer broke the news to Audrey by handing her a copy of her 'finding ad' - an article published in Chinese newspapers when a baby is place in an orphanage. It was this that confirmed to the family that Audrey was in fact a twin.
After weeks of searching - thanks to the power of Facebook - Jennifer managed to find Audrey's twin, Gracie, living in Richland, Washington.
The sisters met each other for the first time on Good Morning America where they discovered that they both wear glasses and love macaroni cheese.
The clip of the girls bursting into tears at first sight has melted hearts all over the world as their meeting was aired to millions of viewers worldwide.