Mum Cries Tears Of Joy After Autistic Son Makes A Friend In A Golden Retriever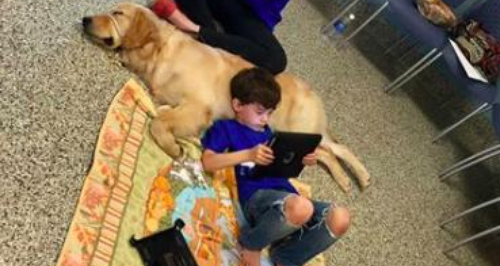 Little Kainoa's mum cries after her autistic son naturally makes his first friend after years of trying at school. / Five year old Kainoa finally makes his first friend after being unable to touch anyone.
Making new friends at school is hard enough for any young child, even us adults struggle at the best of times. But for one young boy forming connections with others has been an unavoidable life-long struggle.
Five-year-old Kainoa Niehaus suffers from autism, making it intensely uncomfortable for him to be touched by other people and form bonds with people outside of his immediate family. Kainoa's condition even prevents his mother Shanna from giving her little boy hugs and helping him get ready for school.
However, the family were given a ray of hope after meeting service dog, Tornado.
After meeting the golden pup Kainoa and tornado struck up an instant connection that resulted in this picture that's set the internet off in tears of joy.
The story, which was posted to Love What Matters Facebook page has since gone viral, with Kainoa's story having been shared over 260,000 times in just two days.
For this little one, dogs really aren't just for Christmas, they're for life.