Son's Innocent Words Restore Faith In Humanity And Hope To France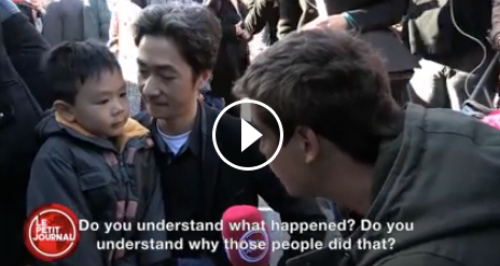 Prepare to feel all wonderfully warm inside, as this little boy and his father have the most precious conversation we've ever heard.
The young child and his papa completely melt our hearts as they as the family try to get their heads around the recent terror atrocities in Paris.
The parent and French news reader gently explain to the adorable youngster and help him understand how peace and hope are more powerful weapons than guns and terror.
Slowly it dawns on the tiny boy that the adults are right and that he must keep faith no matter what.
Watch the emotional video below:
French father and son have the most precious conversation in i...

A father and son have the most precious conversation during an interview by french media at the scene of the Bataclan attacks. I saw that it hadn't been subtitled in english yet, so I made a quick edit to show the rest of the world how freakin awesome some of our citizens are. They're my heros. I feel better too now! #paris #bataclan #parisattacksImages and interview are a courtesy of Le Petit Journal . Thank you so much to the LPJ team for this interview and a very touching segment yesterday! Also, thank you for letting this video be accessed by all and not putting it down. Thank you to Angel Le (father) and Brandon (son) for brightening up our day. <3 Original Segment: http://bit.ly/1Lix9L2Original Video (without subtitles): https://www.facebook.com/PetitJournalYannBarthes/videos/1013093998733798/

Posted by Jerome Isaac Rousseau on Monday, 16 November 2015
How truly wonderful.