There's A Secret Formula To Having The Best Day Ever And This Is It!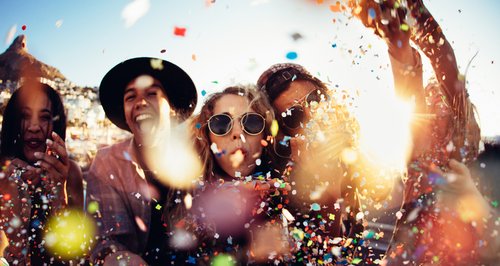 So long Blue Monday, summertime has well and truly hit and it's all about Feel-Good Friday now! But which day is has the ultimate positive vibes?
We've all heard of Blue Monday, the most depressing day of the year, but what about it's counter partner?
That dreaded day in January when we're all so deeply depressed with the state of our lives that we feel at our absolute lowest.
Yep, with it's deadly combination of freezing cold temperatures and having ZERO money after the big Christmas blow-out, that third Monday in January just makes us want to curl back up in bed and never wake up!
Well, here at Heart HQ, we decided to do something about it.
We got Dr Cliff Arnall - the psychologist behind the Blue Monday formula to do a bit of investigating and help us find out which day is the UK's ultimate Feel-Good day of course!
The result? The final Friday in July!
So what's Dr Arnall's secret?
July and August are typically the warmest, sunniest months of the year so people have enjoyed some sunshine and still have plenty to look forward to in the coming weeks

It's payday for many of us!

The school summer holidays means families have more time together and many are looking forward to their yearly getaway

The school break means less traffic on the roads in major cities reducing stress for drivers

Household bills are typically at their lowest point in the year

• The exam period is over and results are far enough away that anxiety hasn't set in yet
He's even turned his research into a handy formula. Check it out...
K + C + P + (A5 x W) – Eo
K = Kindness – giving, sharing, helping others out including our friends and family and people we don't know. Kindness is one of the very best ways of feeling good.
C = Calmness – household stress is low due to schools breaking up and spending more time with family. Also children are excited to be on holiday and aren't bored yet! Calmer people laugh more, sleep better and eat healthier food.
P = Planning – outings, trips at home and abroad, looking forward to breaks and time off, organising picnics, BBQs, beaches, extended periods of time with family and friends.
A5 (or 5A) = this factor is made up of five separate but related factors:
A1 Authenticity – knowing what makes you tick, being happy with who you are
A2 Appreciation – being consciously aware of the good things we have in life
A3 Acceptance – accepting life in all its twists and turns, stressful situations pass
A4 Affection – regularly showing genuine affection to people close to you
A5 Achievement – successfully completing things that are important, big or small
W = Warmth – this time of year is characterised by warm sunny dry days, physical warmth leads to psychological feelings of wellbeing and freedom especially when combined with spending time outside.
Wearing fewer layers makes us feel lighter too.
Eo (or EO) = Emotional obstacles – people feel at their best when they have reduced anxiety to low manageable levels, removed most of their self-doubt and feelings of not being good enough.
Removing emotional obstacles leads to greater confidence, more control and happier more satisfying days.