WATCH: Two Sassy Grandmas Cursing On TV Is The Best Thing On The Internet
19 July 2017, 13:07 | Updated: 19 July 2017, 14:33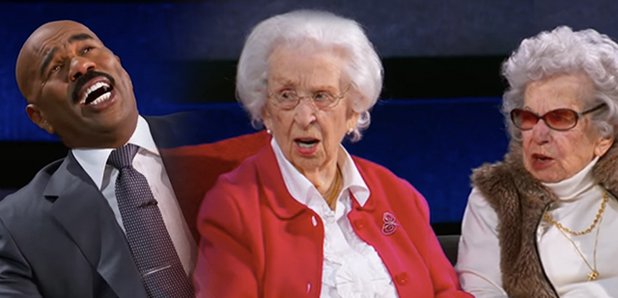 Internet sensations Gramma and Ginga appeared on Little Big Shots: Forever Young and they blew us away with their pure sass. The sisters are 102 and 98 years old!
If you think that when we grow old, it's just a life filled with Countdown, Werthers Originals and cups of tea then think again.
West Virginia sisters 102-year-old Genevieve Musci and Arlene Cody Bashnett, 98, have become internet sensations after their foul-mouthed conversations were uploaded to YouTube.
The pair recently appeared on US TV, more specifically Little Big Shots: Forever Young, and they flirted outrageously with host Steve Harvey.
On social media the pair go by the name Gramma & Ginga and they already have their own cook book, Sisters In The Kitchen, filled with sassy recipes including 'Ginga's Fast-Ass Chocolate Fudge'.
At one point Steve asks the sisters if they enjoyed spending time together, to which they both eagerly replied: "No. We fight all the time."
Steve is visibly taken aback by their response. Confused, he asks them what have they got to argue about?
Ginga answers: "She gives me hell. And you know what I tell her? I say 'kiss my ass'!"
Trust us, you need to watch this clip and you'll be crying with laughter.
There's no doubt that when we grow old, we want to be like this pair!
Share is with your best friend. It's too sassy not to!