This Hairdresser Cuts The Hair Of The Homeless And It's Beautiful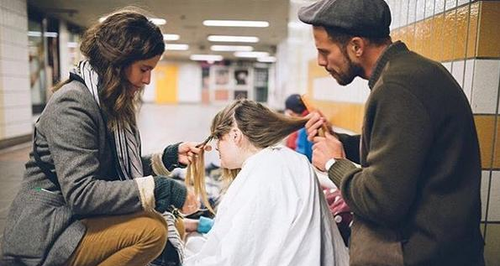 The 29-year-old may be in an industry that's inherently concerned with how you look on the outside, but Josh has other ideas.
The talented stylist understands only too well how connected our outward appearance is will our inward emotions - when we feel our best we look our best and vice versa.
For the past year he's been travelling the streets and offering free haircuts to any homeless clients he meets.
Josh knows the power of a good trim and by providing this much needed service, he's giving so much more than just your average salon experience.
Carrying his hairdressing kit in his backpack, the down-to-earth do-gooder says: "This isn't going to completely change her life right now, but it's providing the empathy that we all should."
The results are stunning and Josh posts his before and after pictures on his Instagram account.
His wonderful work is part of an campaign by Josh and friends Matt Spracklen and Dave Burt, which is using the the hashtag #DoSomethingforNothing, to encourage people to help others, any way they can.