This Act Of Kindness From Italian Policemen Made Us Tear Up!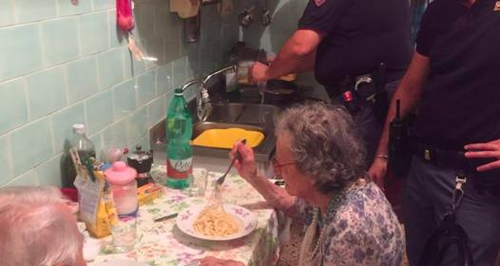 Grab a hanky as this story about Italian police caring for an elderly couple is a real tear jerker!
Police were called to an Italian apartment after being notified of a disturbance by concerned neighbours who could hear cries coming from inside.
When they arrived there were no crimes taking place, but instead an elderly couple who heartbreakingly were crying after watching the news and all of the saddening events taking place in the world.
Eighty-nine year old Jole and ninety-four year old Michele explained to the police that they were desperately sad and despite having been together for seventy years, they rarely get any visitors and had become incredibly lonely.
Touched by the couple's story, the Italian police provided a different service from their usual crime fighting and decided to look after the couple by cooking them some pasta with parmesan and sitting and simply talking with them for a little while.
The story was posted on the police forces Facebook page and since last Wednesday it has been reacted to over 57,000 times showing just how many hearts the story has touched around the world
That evening the service the policemen provided was just as important as what they normally do.
By caring for the elderly couple and showing them kindness we hope that Jole and Michele haven't completely lost faith in the world despite what they see on the news.