Something Happened On Walnut The Whippet's Last Walk That Will Leave You In Tears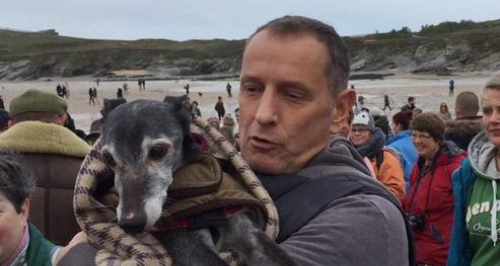 Calling all dog lovers, prepare to hear a tale that will revive your faith in human nature.
When owner Mark Woods decided that his sick pooch finally needed to be put out of his misery, he wanted to give him one last treat before he said his final goodbyes.
However, Mr Woods wasn't the only one who wanted to wish the beloved hound well and give him one final send off.
After posting the tragic news on his Facebook, the dog lover was bowled over when the whole community came out to support him in this emotional time.
The pair descended on their favourite Cornish beach...but certainly weren't alone for Walnut's final walk.
It was a seriously special moment for Mr Woods and his beloved Whippet, as they shared their final moment together alongside so many friends and their dogs:
Hundreds of people join today Mark & Walnut for their last stroll on Porth beach #walkwithwalnutpic.twitter.com/BuqvFjFwSg

— heinz vollmann (@thatheinz) November 12, 2016
The Porth beach in Newquay came alive with supporters, who popped along to accompany the two, with people taking pictures and even filming the special event:
Emotional but beautiful #WalkWithWalnut this morning. pic.twitter.com/jIgDzrlr6t

— Sue (@Surfingsue) November 12, 2016
As he reached the ocean, Mr Woods dipped Walnut's paws into the sea one last time, before taking him to the vet and having him put down:
The last paddle on #walkwithwalnutpic.twitter.com/tPyhBoEjiB

— Polpier & Penpol (@Polpier_Penpol) November 12, 2016
"I didn't want to just sit here moping around, I thought we should go for a last walk so his day was reasonably normal, and mine was reasonably normal as well." the pet owner said.
"I thought it would be nice to walk with others and share the day, I always walk on my own and it gets boring on my own so I thought it would be nice."
Mr Woods ended his sweet message with a heartfelt thanks to everyone who joined him and walnut on their final journey together: "God bless you all."