Watch Heart Wrenching Moment Ryan Reynolds Grants Terminally Ill Child His Greatest Wish
19 July 2017, 16:53 | Updated: 19 July 2017, 17:01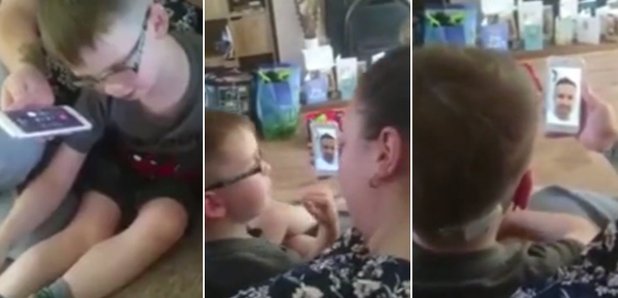 Ryan Reynolds made a terminally ill child's dream come true by calling him from the set of Deadpool 2.
The 40-year-old actor is currently working on the new Marvel superhero movie, in which he plays the part of Wade Wilson, but Ryan took time out of filming to call five-year-old Daniel Downing, from Plympton in England, who was diagnosed with an inoperable brain tumour earlier this month.
Daniel's mother Stephanie shared: "Daniel picked up the phone and Ryan asked if he knew who he was.
"As soon as Daniel realised, he asked if he could FaceTime him and then he was very, very hyper."
The Hollywood star gave Daniel a tour of the set over the app and spoke to him for around 15 minutes, before he was forced to dash off to shoot another scene for the much-anticipated new movie.
Stephanie explained: "All the camera crew waved hello and Daniel had his Mr Pool T-shirt on, like the Mr Men but for Deadpool. Daniel was telling Ryan how poorly he'd been and how his friends had helped him feel better.
"He had to dash off to film, but that was good really - Daniel gets tired very quickly."
The call was witnessed by Stephanie, Daniel's step-dad, his older brother Jack, and two of the family's baby sitters - and they were all shocked by what they saw.
Speaking to the Plymouth Herald newspaper, Stephanie explained: "I messaged his assistant to say how eternally grateful we all are for him taking the time out to talk to Daniel. It was absolutely fantastic.
"I'm so happy for Daniel - it's something he wouldn't normally have been able to do and he was so excited. He told all his friends and his teachers. It's nice to see him so excited because he has been a bit down lately."