This 100-Year-Old Granny Is Our Fitspiration!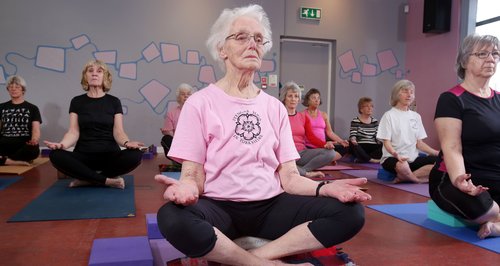 Meet the great grandmother putting us all to shame with her incredible fitness regime!
While the rest of us struggling to fit in that weekly run or tear ourselves away from the hottest new Scani-drama to grace our screens, Jean Dawson is certainly lapping everyone on the couch!
The bouncy lady, who recently celebrated her 100th birthday on February 20th, is living proof that you can do whatever you put your mind to.
The West Yorkshire lass began yoga classes at 67 and is still going strong with her fitness hobby, under the wise tutorage of her 66-year-old tutor Christine Tyson.
"It has really changed my life and has helped cure aches and pains" she told 'Metro'.
The sport's done wonders for Dawson's social life too: "I have bet many kind people through yoga and made some good friends" she confessed.
If only we didn't look like this when we tried it....
via Giphy
We'll get practicing our Downward Dog then...