Actors Recite Pop Songs In The Style Of Shakespeare And It's Hilarious!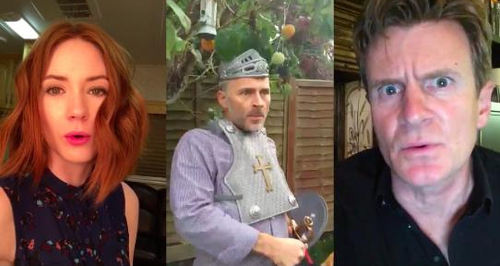 Actors all over the world are challenging each other over Twitter to sing pop songs in Shakespeare language. They're guaranteed to have you giggling!
A trend is emerging on the old Twittersphere where actors are filming themselves reciting song lyrics as if they were performing Shakespeare and the results are hilarious!
Stage, film and television actors are tweeting the videos and nominating fellow thespians to do the same using #15SecondShakespeare. Renditions of Pharrell Williams' 'Happy', Sir Mix A Lot's 'Baby Got Back' and Psy's 'Gangnham Style' are circulating over Twitter in a way that you've never heard before.
Karen Gillan, Sarah Parish and Amanda Abbington all join in the fun - you just HAVE to watch the videos which will have you cracking up.
Mark Bonnar who played DC Mark Dryden in Line Of Duty went above and beyond with his take on Gangnham Style:
Thanks for the nom @amyhubcast Calling @Jason__Watkins @EnzoCilenti and @EdStoppard #15secondshakespeare pic.twitter.com/xVJ5Vvipuf

— Mark Bonnar (@mark_bonnar) September 20, 2015
Downton Abbey's Mr. Michael Gregson (Charles Edwards) wants to join the Vengabus!
Thanks @IanGelderacta. Onwards to @DreyfusJames, @GregHaiste & @emmagafielding. #15secondshakespeare pic.twitter.com/gijZBChihI

— Charles Edwards (@CEdwardsActor) September 22, 2015
Doctor Who's assistant Amy Pond, played by Karen Gillan, pledges to walk 500 miles:
My #15SecondShakespeare thanks @r_jacz and I nominate @imrosemciver and @jenmorrisonlive https://t.co/NjwzCf1FBN

— Karen Gillan (@karengillan) September 23, 2015
Amy Pond's husband in Doctor Who, Rory Williams (Arthur Darville) takes on the King of Pop with Black or White:
Hey. @davidfynn here is my #15secondShakespeare I nominate @neilhimself @JoeSims10 pic.twitter.com/dLl5tOARd0

— Arthur Darvill (@RattyBurvil) September 23, 2015
Gorgeous Prince Caspian of Narnia (Ben Barnes) got saucy when he recited USHER's Yeah!:
.#15secondshakespeare - Here's my contribution. @amyhubcast I nominate @jimmisimpson & @evanrachelwood @WestworldHBO pic.twitter.com/OiVlY7ORV3

— Ben Barnes (@benbarnes) September 23, 2015
She plays Doctor Watson's wife in Sherlock (and Martin Freeman's in real life) Amanda Abbington takes on Pharrell Williams' Happy:
@FisayoAkinade @rebeccacallard nominate: @RalfLittle Martin Freeman and @daisy_haggard #15secondshakespeare pic.twitter.com/oOCubQG6J4

— amanda abbington (@CHIMPSINSOCKS) September 20, 2015
TV favourite Sarah Parish - who's been in Merlin, Mistresses and The Holiday:
In your face @emily_laing_uk I nominate @RazaJaffrey and @TheJimMurray #15secondshakespeare pic.twitter.com/YdJncGZ1o3

— Sarah Parish (@DrSarahParish) September 23, 2015
Tom Fletcher's sister Carrie, star of the West End production of Les Misérable takes on 'Baby Got Back'!
Myself and @CarrieHFletcher joining #15secondshakespeare thanks @theamzi for nominating! We nominate EVERYONE! pic.twitter.com/FDAxnqPbIU

— Emma Kingston (@emkingston) September 19, 2015
Alec Newman, Headteacher at Waterloo Road speaks The Power of Love:
#15secondshakespeare thanks @bongle1974 @amyhubcast I nominate @smoyer and @charitywakefld pic.twitter.com/dwo1rQ1SPz

— Alec Newman (@AlecNewman1) September 17, 2015
Aneurin Barnard who played Bobby in Cilla recites a creepy version of Gina G's Ooh Ah Just A Little Bit:
Thank you @amyhubcast so #15secondshakespeare #GinaG pic.twitter.com/jzU5NevAUO

— Aneurin Barnard (@aneurinBarnard) September 19, 2015
The games even hopped across the pond to the USA! Phill Lewis, Mr Mosby in Zach and Cody recited Pitbull's Hotel Motel!
@davidfynn #15secondshakespeare @dylansprouse @colesprouse pic.twitter.com/1aZsIqdXIt

— Phill Lewis (@ThePhillLewis) September 14, 2015
A member of the Royal Shakespeare Company Kim Ismay speaks a hilarious version of Who Let The Dogs Out!
.@buckland_dawn I nominate @ann_triplett @goonchild4 @GooseyT & @Stanners54 #15secondshakespeare pic.twitter.com/eqkCCevfsa

— Kim Ismay (@kimismay) September 24, 2015
Director Andy Nyman is speaking Shakespeare to Reach For The Stars!
@theamzi @amyhubcast @mikejibson @theamzi Your wish is my command #15secondshakespeare! pic.twitter.com/sJJPH1gsEU

— Andy Nyman (@andynyman) September 20, 2015