Hilarious Tweets That Prove A Levels Aren't Everything!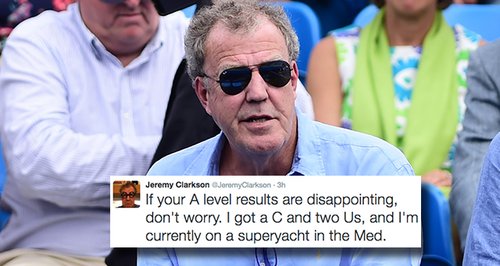 Here's some great advice from some top celebrities who aren't letting their A Level results stop them!
Thousands of teenagers woke up today to a nerve wracking morning as they wait to find out their A Level results which will decided if they get into that university, apprenticeship or job that they've set their sights on.
Results days are always terrifying and when things don't always turn out the way it can feel like your whole world is crumbling down around your ears.
But never fear, because life is NOT OVER! Exams and results aren't the be all and end all of your life and there are plenty of successful people out there who didn't do well in exams and they've got some incredibly real (and hilarious) advice for you!
Jeremy Clarkson kindly reminds us every year that failing exams never stopped him:
If your A level results are disappointing, don't worry. I got a C and two Us, and I'm currently on a superyacht in the Med.

— Jeremy Clarkson (@JeremyClarkson) 18 August 2016
Wise words from Gogglebox's Scarlett Moffatt:
To everyone worrying about their A Level results remember that Pitbull rhymed "Kodak" with "Kodak" and he is a millionaire #Alevelresults

— Scarlett Moffatt (@ScarlettMoffatt) 17 August 2016
Presenter Rick Edwards reminds us that uni isn't always all that...
"If I don't get the grades I need for uni how will I ever get myself into £50K of debt?!" #alevelresults

— Rick Edwards (@rickedwards1) 18 August 2016
Rapper Lethal Bizzle has some sound advice:
If your worried about your A Level results, don't be. I rhymed Rambo with Django and managed to buy a Lambo. You'll be alright. Good luck ❤️

— #WOBBLEOUTNOW (@LethalBizzle) August 18, 2016
Bill Gates never let poor A Levels stop him:
And if this doesn't cheer you up then Air France have got your back:
If anyone needs to run away to Paris to let their parents calm down after #alevelresults day, we got you. pic.twitter.com/eNXI9SbQZ3

— Air France UK (@AirFranceUK) 17 August 2016