Are Adult Slides The New Rollercoasters? Incredible Thrills Open In UK And U.S.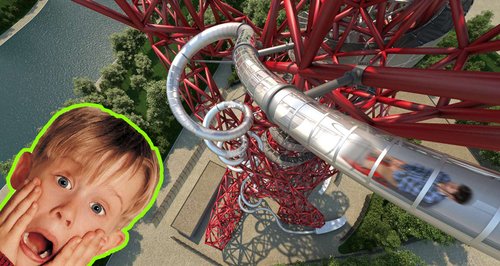 The Slide at the ArcelorMittal Orbit is the latest destination for London thrill-seekers, but have you seen what they've opened in LA?!
Did you ever look at the Queen Elizabeth Olympic Park and think...what on earth are they going to do with this place now that the 2012 Olympics are over?
Well, they've wrapped a 178m helter skelter around the ArcelorMittal Orbit sculpture if that answers your question!
Yes, you heard that right, the world's longest tunnel slide has found a home in London, and it's AWESOME!
The ride lasts 40-seconds and wraps around the ArcelorMittal Orbit 12 times, weaving its way through the now iconic sculpture's loops and curves.
There's even a tight corkscrew section known as the 'bettered' - the German word for 'bedspring' - and a straight 50m right at the end so you can satisfy your need for speed!
Unlike your average playground slide, children have to be at least eight to ride and 1.3 metres tall, so at least you won't be wrestling with toddlers for your chance to ride.
WAIT, hold the phone...
The Slide at the ArcelorMittal Orbit may be long, but it's not floating 1,000ft above the earth like this incredible feat in Los Angeles.
The Skyslide takes thrill-seeking to the next level as it's made of glass that's just one and a quarter inches thick...seriously.
This 45-foot slide was built into the 70th floor of the tallest building on the West Coast of America, so whatever you do DON'T LOOK DOWN.
Would you ride these mega slides? Or are your feet staying firmly on the ground?!