It Wasn't Just Dogs Who Visited Polling Stations With Their Owners!
9 June 2017, 12:33 | Updated: 9 June 2017, 12:34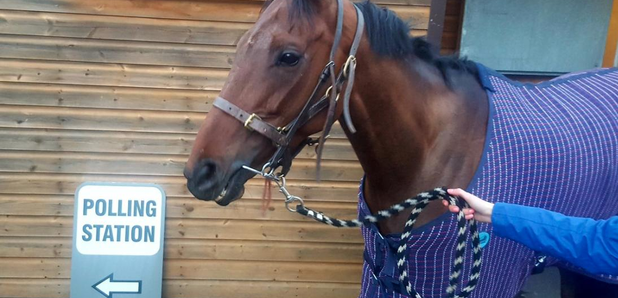 Did you spot any unexpected plus ones at your local polling station yesterday?
As the nation headed to the polls yesterday to vote it was only natural many people took along their dogs, after all they are man's best friend.
And so the mass attendance of pooch's at Britain's polling stations turned into a viral hashtag across social media, introducing #dogsatpollingstations.
Many people got involved and either took a picture of their pup next to their local polling station, posed for a picture alongside them or snapped a classic selfie.
But wouldn't it be massively unfair to focus on dogs and not give the other worthy polling station pets the time of day?
So here is who else rocked up to the polls with their owner, and some of the pictures might surprise you...
If you live in a more rural area then you may have seen a horse at your local polling station. Twitter user Charlotte Cooper from Romsey, Hampshire rode her's to vote and took a pretty epic photo...
Went to vote #HorsesAtPollingStations #horse #pollingstation #ElectionDay pic.twitter.com/hgDdq0hg0J

— Charlotte Cooper (@LottieCooper26) June 8, 2017
Loving #dogsatpollingstations but we are all for #HorsesAtPollingStations! pic.twitter.com/eFs4g1Xdl6

— Fontwell Park (@FontwellPark) June 8, 2017
So dogs and horses were out in full force, but what about our feline friends? Of course the cat lovers out there couldn't resist starting their own viral trend, #catsatpollingstations.
This cheeky chappy even made it INSIDE the polling station!
Forget #DogsAtPollingStations, I found this little tiger guarding the ballot box. #CatsAtPollingStations pic.twitter.com/6tDhfBzqIU

— Stuart Moffatt (@StuMoff) June 8, 2017
But it was this final animal spotting that was totally unexpected on voting day...a tortoise! Twitter user Charlie Knowles shared this snap of her pet tortoise at the polls with her.
She definitely used the wrong hashtag, but we are willing to let it slide on this occasion...
#dogsatpollingstations pic.twitter.com/c7or27eT8k

— charlie (@CharlieEKnowles) June 8, 2017
There is unavoidable drama around the time of an election, but thanks to our country's fine animals there has been a lighthearted side to the whole ordeal too.
Long live animals at polling stations!