Meet the Barbie superfan who has spent £60k on her obsession
19 May 2018, 17:11 | Updated: 20 May 2018, 11:13
She's a Barbie girl, in a Barbie world... quite literally!
Azusa Sakamoto, 36, is so obsessed with the iconic figurines she has spent more than £60,000 on turning her Los Angeles home into a shrine.
What's more she models herself on the doll, wearing matching clothes and sporting identical hairstyles.
Read more: Nicola Adams gets turned into a Barbie doll
Azusa owns an astonishing 222 figurines, the most expensive coming in at a whopping £1340.
Every inch of Azusa's West Hollywood apartment is crammed full of related memorabilia, including a customised toaster, kettle and toilet.
She says: "I have a Barbie fridge, drawers, table and dresser, shelves. I have a Barbie kitchen counter and Barbie oven, and bathroom. I have Barbie dolls; I have purses, I have shoes, I have pillows, I have necklaces, I have shirts, I have skirts, I have socks, I have cups, I have plates, I have posters, I have art works, I have nail polish, I have a Barbie clock…"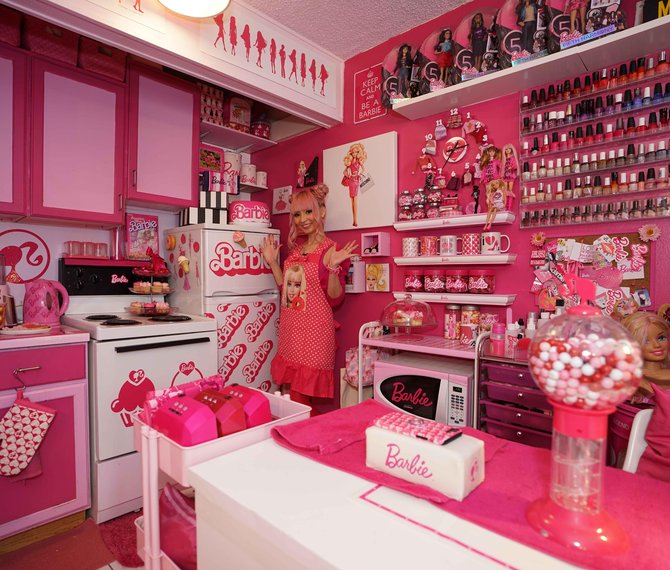 Credit: Barcroft
Azusa added: "I wake up in my pink bed with my Barbie pillows and with my Barbie pyjamas and I make my tea with my Barbie kettle."
Barbie's biggest fan even cooks herself pink meals to reflect her love of the doll's signature shade, mixing in beet juice to her egg white omelettes, edible pink glitter on cupcakes and even pink food dye into her coffee.
"I love cooking some pink food because I got really cute Barbie plates so that totally makes me want to cook more and I really love trying to cook some pink food," she said.
On top of Azusa's home being wall-to-wall Barbie, she also makes sure to always look the part, dying her hair pink and wearing clothes to match.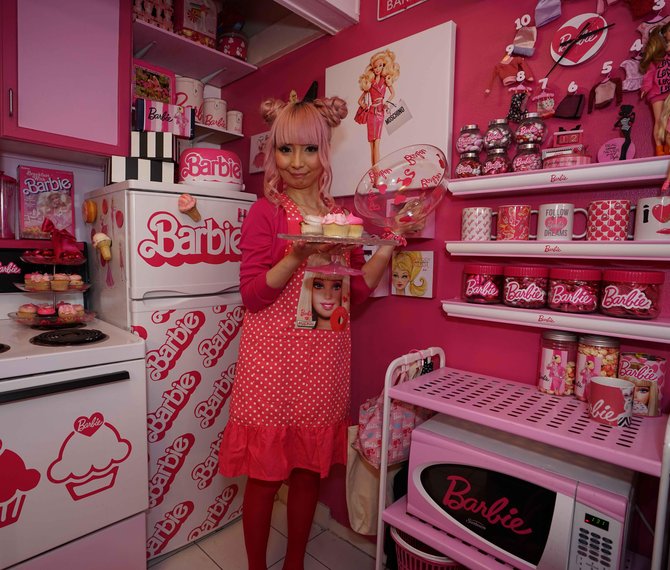 "I mostly wear pink and even now if I wear some other colours beside pink they always have the Barbie logo. I have over 100 Barbie T-shirts. Life is too short to wear boring clothes."
However there is one part of Azusa's life that doesn't mimic her heroine - her love life.
"Ken's not my type to be honest."
Whatever takes your fancy!