This Is Where You Can Get Your Hands On The NEW Peter Rabbit 50p Coin
5 April 2017, 12:01 | Updated: 5 April 2017, 16:21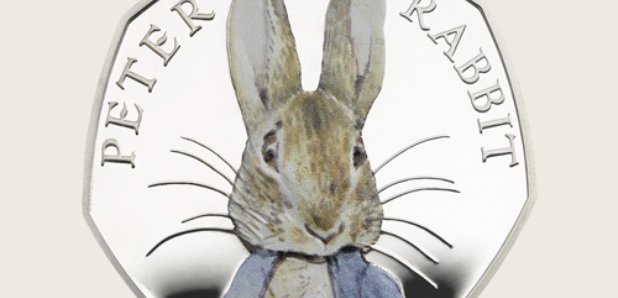 Peter Rabbit the star of the Royal Mint's new batch of 50p coins. Way to steal the Easter Bunny's limelight, Peter!
Thirty thousand coloured coins featuring Peter Rabbit and his blue jacket were released on Monday as collectables, as well as an unlimited number of plain ones.
Demand for the gorgeous coins has been high, with long queues on the Royal Mint website.
Read More: Does This Secret Code Contain Clue To The Missing Fiver?
Picture: Emma Noble, designer of the new 50p The Royal Mint
Not to be outdone, Peter's friends will be getting in on the action too, as later this year they will also be featured on coins for collectables and for circulation.
Jeremy Fisher (our favourite frog after Kermit) will be seen wearing his bright red jacket, Tom Kitten will be rocking his blue pyjamas and Benjamin Bunny will be working his green hat.
Read More: The New £3Coin Has This AMAZING Feature
The coin designs are based on Potter's original illustrations and were created by designer Emma Noble, who said: "My favourite coin from the collection has to be Peter Rabbit. I really like the colours and think that he has a great silhouette. The most difficult to design was Mrs. Tiggy-Winkle as she doesn't have as much shape so I had to spend longer working on this design."
They will add to a collection issued by the Royal Mint last year to mark the 150th anniversary of the author's birth. The 2016 batch showed illustrations of four of Potter's characters, Peter Rabbit, sassy Jemima Puddleduck, sweet old Mrs Tiggy-Winkle and the rather rude Squirrel Nutkin.
Read More: You Could Win £10k With Heart's Money In The Music
More than 45 million copies of Potter's original book, The Tale Of Peter Rabbit, have been sold since it was first published in 1902. In 2006 a very sweet biopic, Miss Potter, was released starring Renee Zellweger and Ewan McGregor.
Now James Corden and Margot Robbie are among the stars voicing characters in the upcoming Peter Rabbit movie, which starts filming this month. It combines the scenery of the Lake District with CGI animation and is due for release in March 2018.
And you can try to get your hands on the new coins here.