Need To Escape A Terrible Blind Date? This Bar Has The Perfect Solution...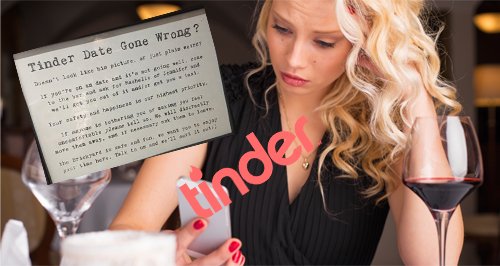 The Brickyard Bar in St Albans has put signs up in women's toilets to help ladies out of tricky (or just plain weird) dating situations! Check it out here...
Dating is tough at the best of times, but when you're meeting someone off the internet for the first time things can go horribly, awkwardly, uncomfortably WRONG!
Fortunately for anyone in the vicinity of The Brickyard Bar in St Albans, first dates are going to get a whole lot easier...
Read more: Matchmaking Made Easy: Dating Sites And Apps Decoded
The bar has installed posters in all the women's loos explaining how ladies can get out of dodgy dates.
Check it out here...
View post on imgur.com
What do you reckon? We think all bars should have a get out clause for women AND men - come on, women lie on their dating profiles too, right?
Read more: Has Your iPhone Reached Its Expiry Date? Apple Reveal REAL Shelf Life Of Products
After an image of the sign was shared on Imgur the bar has received heaps of praise.
They commented: "A sign that was designed purely for the safety of our female customers has caught the eyes of thousands (all genders!) and you have all touched our hearts with your support, so thank you for this.
"In all honesty, we had no idea our sign would attract this level of attention but in light of the extent of the feedback received we have plans in place already to launch a similar safety campaign for men."
Read more: Top 5 Modern Dating Dilemmas Our Parents Never Faced
Would you like to see more signs like this in pubs and clubs?