Britain Is Going To Be Warmer Than Majorca As Temperatures Soar
13 February 2017, 16:02 | Updated: 13 February 2017, 16:04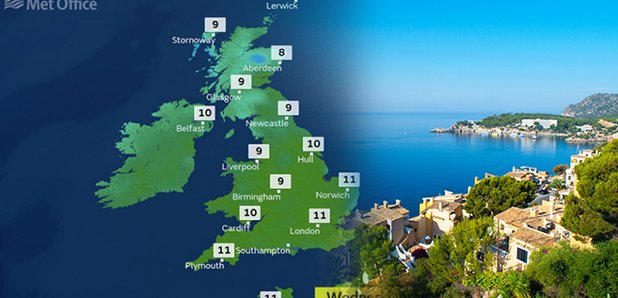 Don't rush in to booking that winter sun break just yet because nicer weather is headed our way this week!
We may have been experiencing temperatures as low as those in Iceland recently but things look like they're about to take a turn for the warmer.
Just to remind us that spring is around the corner, temperatures are set to rise to highs of 14°C on Wednesday as a southerly breeze will make parts of England and Wales feel as warm as the popular holiday destination, Majorca in Spain.
It will turn milder this week, as the air spreads in from the #Atlantic bringing temperatures up to 5 degrees above average for mid February pic.twitter.com/wvuZK0Vypd

— Met Office (@metoffice) 13 February 2017
The sun will be a much needed break from the icy chills and bitter winds we've been experiencing so far this year.
However, only parts of the UK will enjoy above average temperatures, as it will remain cooler in Scotland and Northern Ireland with a chance of rain.
It was certainly #cold during the last couple of days but we'll see a change to something much #milder as we head towards midweek pic.twitter.com/5YPKZ75RHQ

— Met Office (@metoffice) 13 February 2017
Sophie Randall, forecaster at The Weather Channel , said: "Maximum temperatures are beginning to lift as warmer air is entrained into the easterly flow.
"A light to gentle southerly breeze will lift temperatures to 13C and it could be even warmer in London.
"It will be slightly cooler across Scotland and Northern Ireland where there will be the widespread showers.
"The south to south-easterly winds will be light to moderate."