Brits Hit Back At US Newspaper Who Claimed UK Is 'Left Reeling' After Terror Attack In The Most British Way
5 June 2017, 12:32 | Updated: 5 June 2017, 17:16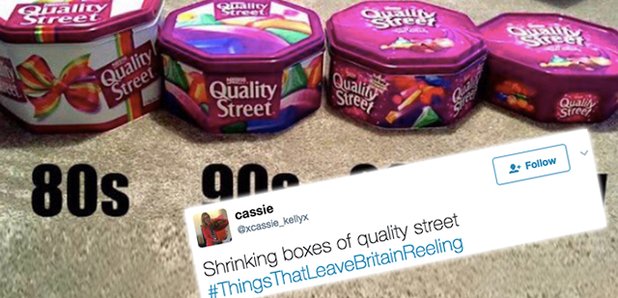 When the New York Times described the UK as 'reeling' from the Manchester terror attack, Brits took to twitter to tell the US media they were wrong - in the most British way possible.
In light of the London Bridge terror attack over the weekend, the New York Times ran a story which described the British public as 'still reeling' from the explosion in Manchester just over two weeks ago.
However, Brits weren't happy with their choice of words and hit back in the most British was possible.
The London attacks hit a nation still reeling from the shock of the bombing in Manchester almost 2 weeks ago https://t.co/aapuMBQTmf

— The New York Times (@nytimes) June 4, 2017
Taking to Twitter, Brits told The New York Times what really made them 'reel' using the hashtag #ThingsThatLeaveBritainReeling and the results really are quite amusing.
In a world where the news looks pretty dark at the moment, hopefully these tweets will make you realise that the majority of people have all got each other's backs.
Also, they'll make you chuckle.
Kicking off with Harry Potter author JK Rowling giving the intelligent response:
The thugs who mowed down innocent people would love to think of the UK 'reeling' but it isn't. Don't confuse grief with lack of courage. https://t.co/9MEUfPLnkv

— J.K. Rowling (@jk_rowling) June 4, 2017
And these tweeters highlighted the fact that these sorts of attacks haven't beaten us yet:
This is what "reeling" means in British English @nytimes pic.twitter.com/F9QJ9kaR7X

— Andy L (@A_V_M_L) June 4, 2017
However, Cassie pointed out the chocolatey drama of the shrinking Quality Street box:
Shrinking boxes of quality street #ThingsThatLeaveBritainReeling pic.twitter.com/BO9lxKgNcv

— cassie (@xcassie_kellyx) June 4, 2017
Remember the time that bloke from 'Come Dine With Me' threw a strop when he didn't win?
#ThingsThatLeaveBritainReeling This iconic moment on Come Dine With Me shook the nation to it's core. pic.twitter.com/kG3sGNdU9H

— Harry Oddie (@HarryOddie) June 4, 2017
And then there are the heathens that do this:
People who eat kit-kats like this #ThingsThatLeaveBritainReeling pic.twitter.com/X0t2sKkxvu

— Liam Butler (@liam_butler5) June 4, 2017
That public transport drama too:
People who sit next to you on an empty bus #ThingsThatLeaveBritainReeling pic.twitter.com/TRY10ERtbj

— Rebecca Wright (@bex2188) June 4, 2017
And when the toaster just isn't up to scratch:
Toasters that aren't big enough to fit in the whole slice of toast. What is the point? #ThingsThatLeaveBritainReeling pic.twitter.com/qj8OsaI2B1

— Charles Rothwell (@charlierothers) June 4, 2017
See, the great British humour will always prevail. Always.