Crime Fighting 1980s Cartoon 'SuperTed' Is Back For 2016!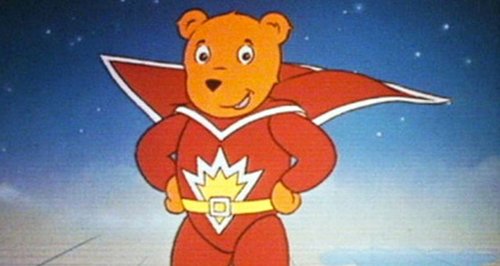 Get ready for a blast from the past because action-packed *ahem* crime-fighting bear 'SuperTed' is back for 2016…but will Texas Pete and Skeleton be with him?
'SuperTed' creator Mike Young has let slip that a new series of the crime-fighting stuffed animal cartoon from the 1980s will be back in 2016.
We are ridiculously excited about this!
The original cartoon was written in Welsh before being translated into English and it was the first ever show to be sold to Disney by an outside company. Not bad, eh?
If you don't remember the show, here's the skinny… 'Ted' is a teddy bear (obvs) who's thrown away like rubbish at a toy factory because he's not perfect. He's like the knobbly fruit of kids' toys.
He's brought to life by an alien named Spotty and eventually gifted with incredible powers by 'Mother Nature'.
Other characters in the show included evil cowboy Texas Pete, a skeleton and a stupid overweight man named Bulk. Politically correct it most definitely was not.
If the show goes ahead it is expected to have a much-needed 21st century facelift.
Mike Young told Radio Times in 2014: "In 'SuperTed' we had a gun-slinging cowboy, a flamboyantly gay skeleton and a fat guy who had jokes made about his weight. And all these things you just wouldn't do today."
What do you think? Would you watch a new series of 'SuperTed'?