This Mum Recreates Ridiculous Celebrity Photos And The Results Are Hilarious!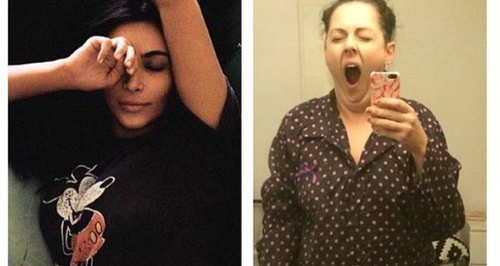 This mum is reminding us that we're the normal ones!
When we look at celebrity photos on Instagram, we can't help but wish that was us: slim, beautiful and overwhelmingly happy.
However, sometimes we do have to take a step back and remind us that these people have so much money invested in making them look this good that they're not really normal any more. They can keep their hands perfectly manicured because they don't need to do the dishes!
Australian comedian Celeste Barber has been reminding us of this by taking the micky out of the ridiculous and artificial photographs posted by celebrities.
The mum-of-two looks like she has a laugh recreating the photos that we so eagerly idealise.
Both of Celeste's son's are under the age of 6 and she also has two teenage stepdaughters, so she totally gets the whole 'being a normal mum' thing. Sometimes comparing yourself to celebrities is no good for your self confidence!
No celebrity Instagram post is safe!
Thanks Celeste for reminding us that we're the normal ones!