A Department Store Has Opened A Christmas Shop In AUGUST!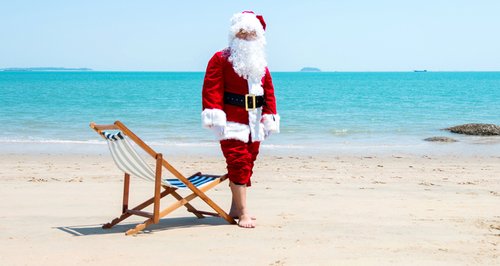 London's Selfridges has taken eager to a whole new level by opening its Christmas spectacular in August. Errrr, seriously?!
They say Christmas is the most wonderful time of the year... but we're guessing the person who said that didn't expect a festive shop to open in August.
Yes, you heard us right, iconic department store Selfridges has opened a dedicated Christmas shop in its London store more than 140 days BEFORE the 25th December.
Now, we reckon those of you who buy everything by Halloween and wrap the lot by bonfire night are doing a little dance right now...
Admit it, the whole idea of shopping for Christmas in the summer fills you will the kind of organisational excitement normally reserved for accountants...we knew it!
But for anyone who buys their gifts on Christmas Eve and wraps them in the pub over a sherry, you're probably wondering whether the world's gone mad!
Almost the entire fourth floor of the Selfridges Oxford Street has been transformed into a 'shine on' winter wonderland with more than 50,000 decorations on display.

The department store's bosses said they launched Christmas in summer despite many complaints that it strips Christmas, and the month of December, of all its magic.
Do you agree? Let us know whether you're pro Christmas in August or against it...