WATCH This Guy Dunking A Biscuit Into His Tea During Bungee Jump Challenge!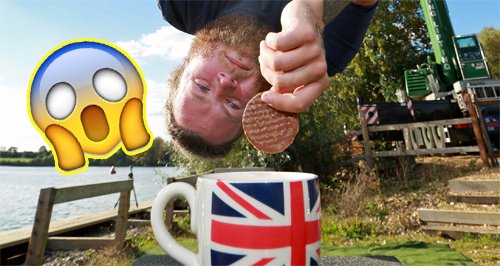 A thrill-seeking 24-year-old has gone to extreme lengths to enjoy a simple tea and biscuit... rather him than us!
Would You Go THIS Far To Dunk Your Biscuit In A Cup Of Tea?!
A British adrenaline junkie has gone to extreme lengths to get his tea and biscuit fix.
24-year-old Simon Berry threw himself down a 75m drop... no, seriously!
Of course, Simon was carefully strapped to a bungee chord to complete the Guinness World Record-breaking task, which saw him expertly fall in a perfect line, biscuit in hand, over a waiting cup of tea.
Despite the height, the adrenaline and the madness of it all, he managed to dunk his biscuit just as the chord reached its max stretch!
Phew!
If you've got the stomach for it we recommend watching the video here...
Now, we know the big burning question you're dying to ask...
No, not WHY but what type of biscuit was he dunking?!
You'll be pleased to know it was a chocolate hob nob, dropped into a regular builder's brew in a Union Jack mug for an extra British twist.
Simon's technique involved clasping one wrist over the other to provide greater precision as he plunged downwards towards the cuppa.
Not only did he accurately dunk, but he also secured the Guinness World Record for the highest dunk of a biscuit by a bungee jumper. Nice work Simon!
What lengths (or heights) would you go to have a cup of tea and a biscuit?