Celebrities Get A Barbie Doll Transformation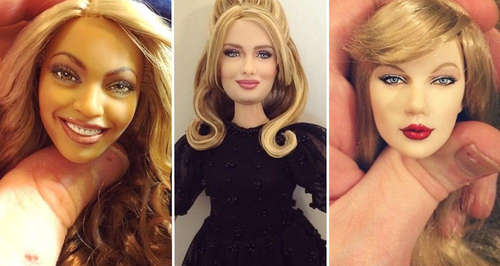 A doll maker has become some what of a social sensation after he started turning celebrities into Barbie dolls. Take a look and see if you can tell the difference between the doll and the real thing…
Thanks to doll-maker and Instagram user, Cyguy83 – real name Cyrus, our favourite celebrities are being turned into life-like dolls that look so real, you might actually mistake them for the celebrity they're modelled after. Madame Tussauds, eat your heart out!
Yep, the social sensation has made dolls that are perfect replicas of the likes of Madonna, Brad Pitt, Ellen DeGeneres and national treasure, Adele.
And the world renowned stars as realistic figurines sell for up to $1,500! Woah!
Talking to WIRED, Cyrus said: "I am obsessed with creating a perfect likeness when I am making celebrity dolls."
"Sometimes I use an existing doll head mold, strip off the factory paint, and repaint it.
"Often, though, I cannot get the likeness I want with a factory head sculpt. In those cases, I will sculpt a new head myself, cast it in a mold, and go from there."
Take a look at some of his best work below...
Adele
Taylor Swift
Johnny Depp
Audrey Hepburn
Beyonce
Brad Pitt
Ellen Degeneres
Madonna
Cool or creepy? Let us know your thoughts…