Inventive Dad Turns His Son Into Real Life Elf On A Shelf!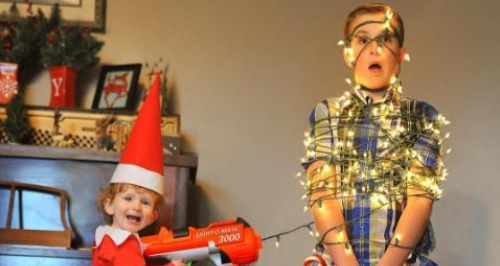 The Elf on the Shelf tradition is bigger than ever in the UK now, but one things for sure, it's a commitment. However, this dad has taken things one step further and transformed his son into an elf on the shelf!
The Elf on the Shelf, which started in the US, involves an Elf who is sent by Santa to check that children are being good during December. And every night, with a little help from mums and dads, the elves change position, just to let the children know they're watching.
Coming up with a scenario to put your elf in every morning can be tough, but this dad has taken the challenge one step further and transformed his son into a real life elf and put him on a shelf!
Alan Lawrence, 41, from Paradise, Utah, started the tradition of turning his son, Rockwell, into an elf last year when he was just four-months-old. Now, at 15-months-old, the father-son duo are taking on the challenge again to hilarious effect.
In his latest post on his Instagram page, the elf (Rockwell) has been caught eating all of the chocolate. The caption read: "The elf ate all of the advent calendar chocolates last night! He apologized once he realized that it was not a game to test how many chocolates you could put in your mouth in 24 seconds. #rocktheelf"
In other posts the naughty elf has been photographed brushing his teeth with squirty cream, tying up one of his brother's, Zac, with Christmas lights and one where he's flying through the air!
The photograph of Rockwell tying up Zac was posted alongside the caption: "So far the elf mischief has been pretty mild, but that's usually how elves are - they gain your trust and then next thing you know your toilet is full of jello and your slippers are filled with pudding. He did however, bring some useful tools. Last year he said we didn't have enough lights around the house, so he brought a Light-O-Matic 3000. It can shoot over 1000 pre-lit lights a minute and uses a 30 Volt Polar Power battery. Last night Zac got a taste of the Light-O-Matic when he tried to steal one of the elf's candy canes. The elf lit him up like a Christmas tree and made him stand in the corner for 15 min."
And it's not just Christmas that Rockwell and Alan honour with fancy dress. He's also taken on St Patrick's Day as well as just dressing up for the hell of it!
If you like what Alan and Rockwell do, check out their Instagram page!