There's Going To Be A December Supermoon And This Is When You Can See It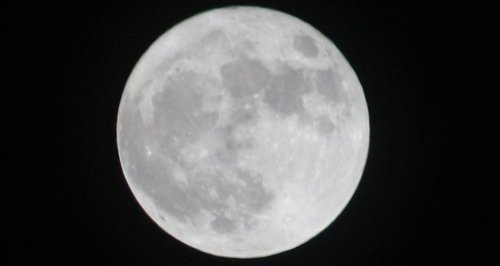 The final supermoon of the year is going to light up our skies later on this week so make sure you don't miss it!
We're still getting over the spectacular supermoon we got to see back in November but nature is treating us to the wonder one more time before the year is out.
Although the December supermoon isn't going to be as bright as the one we saw last month (November saw the moon come closest to the Earth since 1948), it's still going to be pretty spectacular.
As long as there's not too much cloud cover, the moon will appear up to 14% bigger and 30% brighter than an average full moon.
Get your cameras at the ready because the final supermoon of 2016 is going to be on Tuesday 13th December 2016
What is a supermoon?
A supermoon is a special occurrence that basically means the moon is much closer to the Earth than it usually is.
Why does a supermoon happen?
The magical event happens because of the unusual egg-shaped orbit of the moon. One part of the moon's journey around the sun is is much closer (around 30,000 miles) to the earth and the rest of it.
What will this the supermoon look like?
Because of it's unusually close proximity to the Earth, the moon will appear up to 14% bigger and 30% brighter than your typical full moon does. The incredible spectacle means the moon will look bigger than it has done at any point for the whole of the 21st century.
When will the supermoon appear?
The date when the the supermoon will be at its most brightest is December 13th 2016 - so get that in your diaries NOW!

Where can I best see the supermoon?
The moon will appear at its biggest when it is low-hanging and near the horizon. For that reason, it's best to get yourself up somewhere high up like a hill.
If I miss the supermoon, when can I see the next one?
Unfortunately if you miss the event, it isn't good news. The next one won't be until December 2017, so make sure you see it this year!
There won't be a supermoon as bright as the one we saw in November. This is because the moon hasn't been that close to the earth since 1948 and won't be again until 2034 - so for many people that supermoon will probably be the most amazing the moon they'll have seen during their lifetime.
However, there will be three other smaller supermoons before 2016 is out, so don't worry too much!