Dick Van Dyke, 90, Sings For Fans Outside Walt Disney's Childhood Home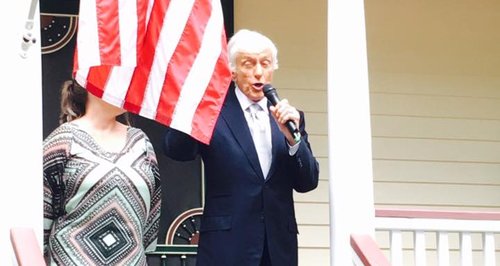 He's still got it!
There must be something in the water: first the Queen proves that she still has a fantastic sense of humour at 90 and now Dick Van Dyke is proving that he's still got it, also aged 90.
The supercalifragilisticexpialidocious actor entertained fans outside the childhood home of Walt Disney in Chicago with a trip down memory lane as he sang 'Let's Go Fly A Kite' from Disney's Mary Poppins.
The video was posted on Facebook by Nicolas DeGrazia who said: 'So this just happened.
"He marches out on steps of Walt Disney's birthplace on N. Tripp in Chicago and says "Hi! I'm what's left of Dick Van Dyke!" Then he bursts out laughing. The guy is 90 years old and running around and skipping with a huge smile on his face!"
Wearing a blue suit, the beloved actor was accompanied by his wife, Arlene Van Dyke, 44.
This isn't the first time that Dick Van Dyke has pleased fans with a spontaneous spot of singing. Remember the Mary Poppins flash mob? Watch it here!