Disney Princesses Look Glam At Any Age…And Here's The Pics To Prove It!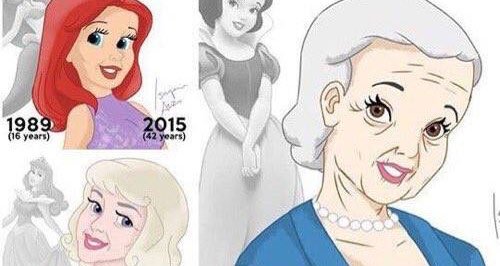 Ever wondered what happened at the end of your favourite Disney movie? One artist obviously thought about that question A LOT because he's reimagined Disney Princesses at their current ages…wrinkles and all! Here are the results…
These gorgeous illustrations by artist Isaac Areas show what Disney Princesses would like if they aged like the rest of us. Many Princesses like Mulan, Belle and Ariel were just teenagers in the original movies, but now they're well into womanhood…and looking fab!
Mulan was 16-years-old in the original 1998 movie, so she'd be 33-years-old today. Pocahontas would be 38 (and probably still singing about the 'Colours of the Wind', and Jasmine from 'Aladdin' would have reached 38 too.
Belle from 'Beauty and the Beast' would be 41 and Ariel would be 42! We wonder if Flounder is still alive and errr, flapping?
Amazingly, Aurora from 'Sleeping Beauty' would be 72-years-old, Cinderella would be 84 and Snow White would be 92-years-old. Yep, that's 92!
Can you believe 'Snow White and the Seven Dwarves' was made in 1937…minds blown.