Dog Accidentally Runs Half-Marathon And Rules the Race!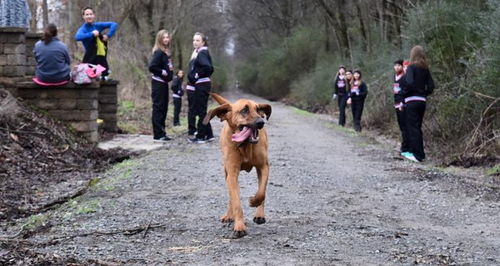 Meet the competitive canine with a penchant for racing!
If we accidentally ran a half-marathon we'd… no wait, scrap that, because seeing as we find it a battle simply getting out of bed in the morning, there's NO WAY we could run 13.1 miles without realising!
But then again, we're not a dog.
Ludivine the bloodhound is though, and that that's exactly what happened when the two-and-a-half-year-old pooch snuck out of his owner's yard in Alabama and decided to stretch his legs.
The pooch soon found himself caught up in the local race and decided to put his fellow runners to shame, completing the course in 1:32:56 and coming seventh!

Owner April Hamlin was understandably amazed when she heard what her cheeky canine had been up to:
"My first reaction was that I was embarrassed and worried that she had possibly gotten in the way of the other runners" she told 'Runner's World'.
Congratulations to Ludivine… now if only we had two extra legs!