This Man Brought His 'Emotional Support Duck' On A Plane And It's Positively Charming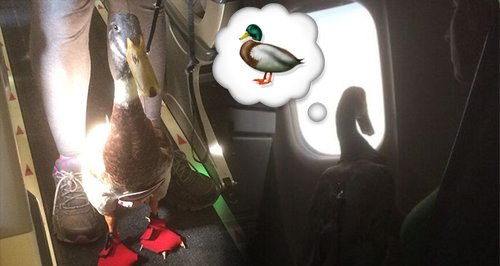 Author Mark Essig was on a short internal flight in the USA when he spotted a fellow passenger who had brought his 'emotional support duck' on board.
If you're afraid of flying then this is the duck for you.
When author Mark Essig was on a short flight from Charlotte, North Carolina, to Asheville, he noticed an unusual looking passenger aboard the plane.
Yep, that's right. A passenger on the plane had brought along his emotional support duck to keep him calm during the flight.
My seatmate, CLTAVL, is this handsome duck named Daniel. His gentle quacking eases the sadness of leaving #SFA16. pic.twitter.com/iDKWCceAFi

— Mark Essig (@mark_essig) October 16, 2016
We struggle to keep our liquids below 100ml to keep them with us on a flight, let alone getting a duck on board. Nevertheless, we've never had anything like Daniel the duck.
Here is Daniel The Emotional Support Duck in all his red-shoed glory. pic.twitter.com/rBkK0QnBKr

— Mark Essig (@mark_essig) October 17, 2016
"He was wearing little red booties," Essig told BuzzFeed News, "I assume to protect the delicate webbing of his feet, though I didn't ask why."
Because Daniel's owner is a thoughtful one, he was also wearing a Captain America nappy so that he could keep his dignity during the flight.
@mark_essig he is an Indian Runner (an Indonesian breed), a certified emotional support duck, 4 years old, wears a Capt. America diaper pic.twitter.com/9X0BbYEPQB

— Mark Essig (@mark_essig) October 16, 2016
"His human said he had several diapers, but always indicated (how I'm not sure) that he preferred to wear the Captain America one," said Essig.
Daniel is four years old and his owner bought him from a garage sale.
The author said he saw Daniel's owner "kissed him on the beak several times" and held his beak gentler when he quaked too much during the flight.
Here is a 3-second video of Daniel the emotional support duck. His human says, 'and wagging? That's happy.' pic.twitter.com/WElW9d827o

— Mark Essig (@mark_essig) October 17, 2016
But perhaps the best photo Mark managed to capture of Daniel was when he was pondering out of the window, looking pensively at the clouds.
Daniel, the duck on my flight, likes to look at the clouds. pic.twitter.com/YiOjCvZ0NO

— Mark Essig (@mark_essig) October 16, 2016
Perhaps he was contemplating the inception of a bird with wings using a plane to fly. Fancy that...