Every Worker NEEDS 'Meal Deal Talk' To Brighten Up Their Lunch Hour!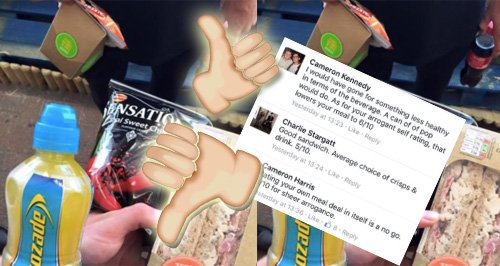 This hilarious Facebook thread is bringing the workforce together through food.
When you're working hard it's the little things that bring a smile to your face throughout the day.
A hilarious new thread called Meal Deal Talk has infiltrated the Facebook and encourages users to share, like or comment on pictures of other peoples lunches.
Yep, it might sound trivial but its GOLDEN - in fact, you won't believe just how passionate some people get about their lunch choices.
Those who choose classic combinations such as a sandwich and a packet of cheese and onion crisps tend to be applauded, however users are little less forgiving to anyone who dares to pick up anything particularly left-field, like carrot sticks and hummus or a - God forbid - a Monster energy drink.
We've rounded up just some of the hilarious comments that made us chuckle over our BLT.
Think I'm taking this meal deal talk page abit too serious pic.twitter.com/lTWCmnY0Nl

— Richie Webber (@webber_richie) August 1, 2016
Just joined the meal deal talk group on Facebook and I have not been disappointed pic.twitter.com/v0NH6Whdcz

— ella (@ellaburrettx) August 1, 2016
Meal Deal Talk - sheer brilliance. I don't know why I find it so amusing. pic.twitter.com/iMgRjRyZs4

— Matt Lynch (@mattlyynch) August 2, 2016
What happens when you get a Boots meal deal pic.twitter.com/5AQR1jEdad

— Matt Lynch (@mattlyynch) August 2, 2016
So I'm in a Facebook page where people rate each others meal deals... Heaven does exist pic.twitter.com/dbPkwkQ8Kj

— Alfie Williams (@AlfieWilliams_) August 1, 2016
Oh dear, who knew lunchtimes could be so controversial?