Forget Ibiza! UK Weather To Match Spanish Island... But Not For Long
14 March 2017, 13:15 | Updated: 14 March 2017, 13:36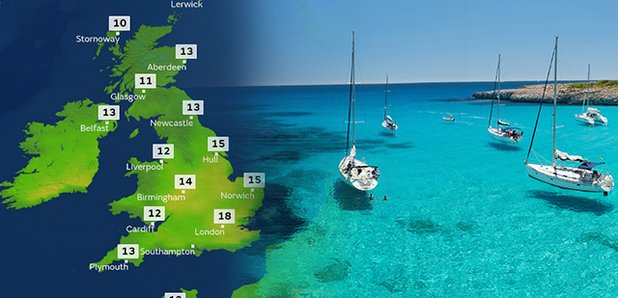 If you're looking for warm weather, forget your passport.
The Met Office may be calling it 'mild' but there's not denying the truth: parts of the UK this week will be as hot as Ibiza.
According to experts, parts of south-east England could see highs of 18°C, which is around the maximum daytime temperatures forecast in Ibiza, Barcelona and Madrid for today.
It will be mild across the board, with temperatures perhaps reaching as high as 18 °C or even 19 °C where the cloud breaks across SE England pic.twitter.com/xApp4Hz8wr

— Met Office (@metoffice) 14 March 2017
However, the same can't be said for other parts of the country.
The weather towards the north and north west of the country will see more cloud and the chance of drizzle and gales for the first half of the week.
Over the next few days, we will slowly see the #Jetstream slip south across the UK, bringing rain and stronger winds in time for the weekend pic.twitter.com/wQuAhGgBsQ

— Met Office (@metoffice) 14 March 2017
Yesterday's highest temperature was 15.9°C in Murlough, Co Down and the average UK maximum temperature for the time of year is 8.9°C.
Despite the hot weather in the south, February will still hold the hottest temperatures of the year so far, where highs of 18.3°C were recorded on February 20th.