'For The First Time In Forever' We Can Fly on a 'Frozen'-Themed Plane!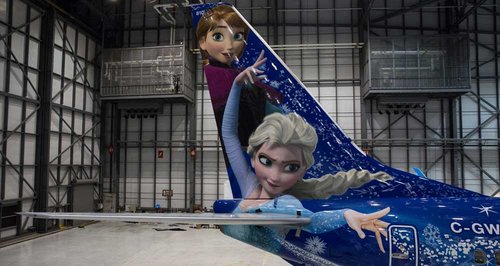 Canadian airline WestJet has pulled out all the stops to create this amazing, completely customised 'Frozen'-themed plane that is guaranteed to have every child begging for a holiday!
The company worked with specialist Disney artists to makeover every inch of the jet. In total, the project took 21 straight days in grueling 12-hour shifts to complete. Phew!
But the plane isn't just for show…it's actually going to be part of WestJet's working fleet which means some very lucky holiday makers will get to fly 'Frozen' Air.
The plane's interior was also given a 'Frozen' spruce, with colours mimicking different seasons and snowflake designs on the headrests. Let's hope 'Frozen' isn't the only movie on the in-flight entertainment though!
The plane's design includes Anna, Elsa and Olaf having a good old sunbathe. Amazingly, the team needed 170 gallons of paint to finish the job and 23 different shades…makes painting the living room look easy.
Check out this brilliant time-lapse video of the plane coming to life…
Wouldn't this be an amazing start to a family holiday? We reckon it's fab for any little ones who are scared of flying - there's nothing like Disney to make things seem exciting.