Ridiculously Good-Looking Male Model Goes Topless Whilst Weightlifting... His CAT!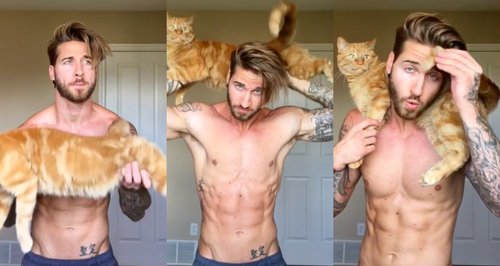 No cats were harmed in the making of this video...
Meow! We'll forgive you if at first you didn't see that this male model was weightlifting his cat. His washboard abs distracted us too.
Canadian model Travis DesLaurier has stolen the internet's hearts with a video of him weightlifting his ginger cat Jacob without his shirt on.
Since he posted the video on Facebook and Instagram two days ago, it has racked up more than 11 million views and been shared over 100,000 times!
Some commenters have been expressing how the video has got them all a bit hot under the collar.
'Will um will someone please show me how to have this playing on loop on our TV in the living room for ummm ever. Please. Ummm yes. Thank you. Good day,' one over excited fan wrote.
(If anyone finds out how to do this, please let us know.)
It turns out that Travis is a really good model... Here he is modelling a bit of rope. It's a nice bit of rope right?
If you need us we'll be lost scrolling through Travis' Instagram account. For research purposes of course...