Grandma Using Snapchat For The First Time Is PRICELESS!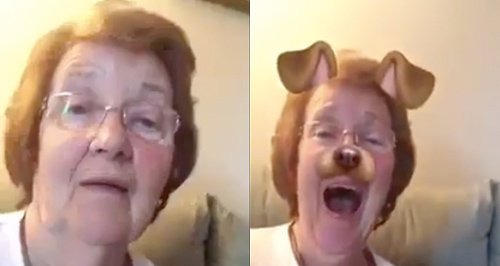 The latest face filter function on the picture messaging app has this pensioner in fits of giggles.
Who said Snapchat was for just for youngsters? This 82-year-old grandma was more than willing to pay around with the photo-sharing app and the results are hilarious.
Keen to try out the app's famed filters, she gets a really bad case of the giggles as her faces is transformed into a labrador and a racoon through Snapchat's facial recognition technology.
Her infectious cackle reaches an even higher pitch when she realises the animated dog face filter can stick it's tongue out, which of course made us roar with laughter.
The eye-waveringly funny moment is already leaving a mark on the internet with the video having been viewed over 95,000 times on Facebook.
HILARIOUS!