Guy Spots Hilarious 'Friends' Extra Gaffe And We're Not Impressed!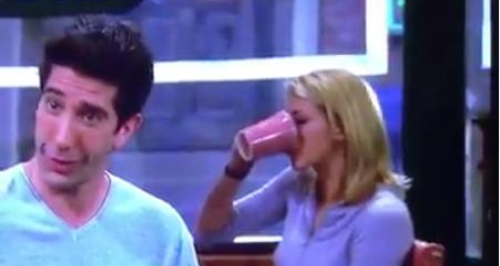 How have we not noticed this before?!
We're no stranger to that lazy day in front of the tele, re-watching 'Friends' episodes over and over again. Pure bliss!
Whilst doing exactly that, Twitter user and comedian Nick Turner spotted the obvious flaw in an extra's acting.
Normally, the role of an extra is to blend into the background but this woman took things to a whole new level and it hasn't gone unnoticed!
The moment happens in the episode 'The One Where Paul's The Man' in season 6, which shows a woman in the background drinking coffee whilst Rachel and Ross argue in the famous Central Perk cafe.
Rather than drinking her coffee normally, this extra goes all alternative. She drinks... and CHEWS it!
See for yourself...
And the award for best "Friends" extra goes to woman who sips coffee then chews it. pic.twitter.com/LQtycvoS9w

— Nick Turner (@NicksTurners) July 6, 2016
We'll put this one down to boredom!