Has The Loch Ness Monster Been Found Dead?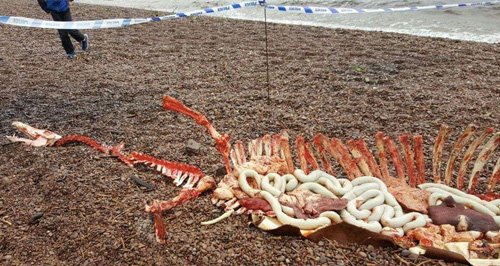 A mysterious creature has been found washed up on the shores of the Loch Ness.
You'll probably remember growing up and being terrified as your parents told you scary stories about an eerie creature that swam the shores of Loch Ness.
However we always sought comfort in the fact the creature probably wasn't real and it was merely an urban myth.
Well, new pictures showing the remains of a strange creature has the internet not only questioning whether the Loch Ness monster was real but whether it's been found dead.
An animal rescue charity posted a snap to their Facebook page claiming that the skeleton had been found by a dog walker near Loch Ness, and it wasn't long before people across the globe began mourning the loss of one of their most-loved mythical creatures.
However is all as it seems?
Critics have already questioned the image's authenticity, while others remain sceptical as to whether it's all one big hoax saying it's strange the skeleton remains with the internal organs still intact.
Surely they would have been eaten or rotted away with the rest of the flesh?

It seems as though sceptics were in fact right not to be duped by pictures, as Help2Rehome Scotland later put an end to any theories when they revealed it was actually set out for a TV show!
Aww! That takes all the fun out of it!