Horse Achieves True Happiness With The Help Of Rubber Chicken Toy
If only we could all be so content in life just by playing with a plastic bird...
The internet cannot stop laughing at a clip of this horse having the time of it's life whilst messing around with a yellow rubber chicken toy.
This equine animal's joy knows no bounds as it repeatedly shakes it's head from side to side and shakes the squeaking bird.
Watching the footage, we can't help but long for simpler times, when all you need is a brightly coloured plaything to bring ultimate happiness...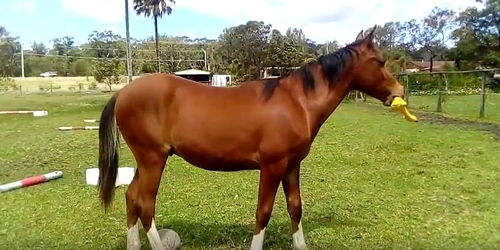 Horse shaking a rubber chicken | Picture: Youtube
We hope this happy horse continues to shake to it's heart's content for days to come...