Watch The Incredible Moment Alistair Brownlee Helps His Brother Over The Line In World Triathlon Series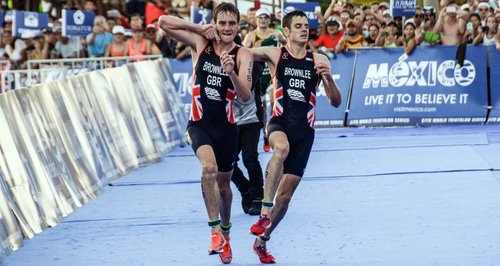 Jonny Brownlee was in a bad way, suffering from heatstroke and collapsing over the finish line.
The Brownlee brothers never cease to amaze us. Despite being each other's biggest competition, they proved that their bond of love is stronger than their passion to win.
We saw them cross the line one after the other in the men's triathlon in Rio, bringing home Gold and Silver respectively for Team GB, but this time they were competing in the World Triathlon Series finale in Mexico.
The 2016 WTS season ends in a dramatic fashion. What. A. Year. #WTS2016 pic.twitter.com/nvqNrrI13D

— World Triathlon (@worldtriathlon) September 19, 2016
Olympic gold medalist Jonny began weaving across the road as severe heatstroke came over him and he struggled to stand, let alone run.
Just as it looked like he was going to collapse, brother Alistair came to his aid by grabbing him under the arm, propping him up and pushing him over the finish line ahead of himself.
Alistair described his brother's condition "as close to death as you can be in sport."
South African Henri Schoeman who scooped bronze after the brothers in Rio, overtook Jonny and Alistair in the last stretch to bring home gold.
According to race organisers, despite Jonny collapsing over the finish line, he is making a great recovery. They tweeted: "Following the race [Jonny Brownlee] was in recovery and doing a lot better, but just for safety precautions he was sent to the hospital."
Now that is brotherly love!