Man Proves He's Haunted By 'Baby Ghost' And The Video Is Freaking Us Out!
13 November 2017, 15:31 | Updated: 13 November 2017, 15:35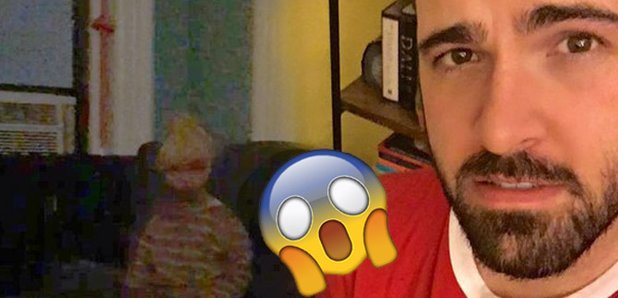 Halloween might be over, but one Twitter user is still living out a nightmare.
A man who is convinced his New York flat is haunted has kept Twitter users glued to their timelines as they tune in to find out what happens next in his real-life horror story.
Adam ... has taken to the social networking site to give his followers a play by play of the paranormal happenings in his apartment after what he claims has been regular visits from a 'demonic' baby.
In a series of tweets, Adam claims the phantom toddler even has a name, Dear David, and is convinced the creepy ghost has crossed over from beyond the grave and manifested himself in flat.
He started sharing his experiences on Twitter a few months ago, and he now has thousands of people eagerly following each update.
So, my apartment is currently being haunted by the ghost of a dead child and he's trying to kill me. (thread)

— Adam Ellis (@moby_dickhead) 7 August 2017
The happenings began back in August when Adam tweeted: "So, my apartment is currently being haunted by the ghost of a dead child and he's trying to kill me. "He started appearing in dreams, but I think he's crossed over into the real world now."
"For a while he just stared at me, but then he got out of the chair and started shambling toward the bed," he wrote.
Admittedly, Adam was suffering from 'sleep paralysis' when he first encountered the creepy ghost but is now convinced the shadowy figure is, in fact, real and has been taking a series of snaps to prove it.
The dark images make it difficult to view, but Adam says if you turn up the brightness on your phone you can see what we can only describe as Chuckie!
7 November 2017
If the snaps aren't enough to convince, you then maybe the video below will!
We don;t quite know how to expain it all, photoshop? Video editing trickery?
Surely, it would require A LOT of effort to keep this prank going all this time?
We don't know what to think!
If you want to keep track of Adam's spooky story, you can do so here.
I made a Storify of all my Dear David threads for easier viewing. I'll keep it up to date. https://t.co/NcZm0ZXXTJ

— Adam Ellis (@moby_dickhead) 16 August 2017