May WON'T Be As Hot As Weather Forecasters Thought!
2 May 2017, 12:40 | Updated: 2 May 2017, 12:57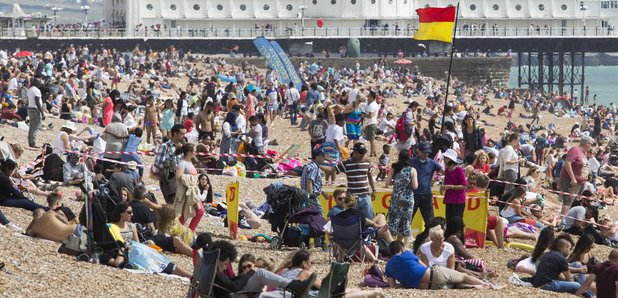 Previous forecasts of 30C heatwave in May were a little optimistic...
If you've heard the rumours of UK temperatures approaching 30C during May, we have some bad news for you. Weather forecasters have admitted that it's not going to be quite as hot as they expected.
The Met Office has revised their forecast down to highs of up to 22C, which is still better than it has been for the last few weeks. And it's definitely an improvement on the cold and wind that the UK has experienced recently.
Late April saw parts of northern Scotland freeze in temperatures as low as minus 8.6C. Parts of Cumbria plunged to minus 5.5C and Wales had sub-zero temperatures of minus 5.6C. Brrrr!
- Read more: Weird weather photos
Met Office meteorologist Simon Partridge has given the lowdown on what to expect: "Average maximum temperatures will be about 16C, but we could see temperatures throughout the month a bit higher than that, particularly through this week.
"We will see eastern parts of the country slightly below average due to an easterly breeze, but overall in the west, high teens are likely and it's possible we could see the odd 20C.
"But we're not looking at anything much higher than that at the moment."
Still, the Met Office are looking on the bright side on Twitter:
Not the #BankHolidayMonday weather you wanted? Well it's only a 4 day week and the forecast looks to be mostly dry ⛅ https://t.co/C4xpBydvqk

— Met Office (@metoffice) May 1, 2017
It should stay mainly dry throughout the month, but it could still be slightly unsettled. Keep the faith though, because it will start to feel more like summer towards the end of May. (Just in time for festival season, hurrah!).
Simon Partridge added: "In the middle of the month, we are looking at things being slightly cooler but still around the average and by the end of the month, it will become warm or very warm - about five degrees above average, so 21C and 22C maximum."
So, not quite a heatwave, but definitely not too dismal. Maybe keep the picnic blanket on standby just in case?
- Read more: Warm weather blamed for record number of clothes moths