'My Baby's Got A What?' The Moment Mum Discovers She Didn't Have The Baby She Was Expecting!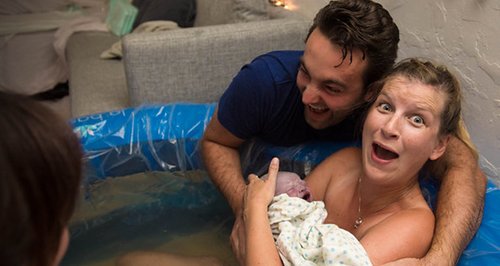 That awkward moment when you're expecting one sex of your baby but unexpectedly deliver another...
There's always that one moment during pregnancy when you have to decide whether you want to know the sex of your baby. While some parents want to know, others wait to find out when it comes.
Although mum-of-two Kim Guiley, from California, decided that she didn't want to know the sex of her baby, she got it in to her head that she was having a little girl.
However, Kim and her partner Travis got the shock of their life when they were told that they had a son, just after giving birth.
The hilarious moment was captured by photographer Susannah Gill Photographic Storytelling - and Kim admitted that she "can't stop laughing" at the photo.
The look of surprise on the happy parent's faces is certainly priceless!
Kim wrote alongside posting the photo: "After a lifetime of dreaming about one of each, but months of feeling so strongly that we were having another girl, this is the moment we discovered Theo's sex!!"
She added on her blog, Santa Cruz Family Doula Collective: "Shocked s an understatement - I was blown away and totally elated. I have always dreamed of having both a daughter and a son but throughout my pregnancy, I had convinced myself we were having another girl.
"In that perfect moment, all of my dreams had come true. My family was complete."