MOOBS Makes It Into The Oxford English Dictionary! And You'll Never Guess What Else...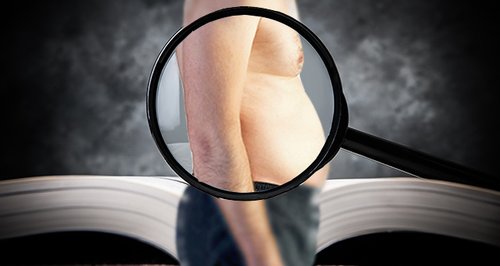 It gets to this time every year and it never ceases to amaze us that some of the words we throw around in our everyday chit chat make it into the Oxford English Dictionary. And this year it's the age of the 'moobs'.
We've been using it since it was first recorded in 2001 and it refers to the 'unusually prominent breasts on a man'. Yep, that's right, it's a 'man boob'.

Picture | iStock
We're not sure what this is going to do for body confidence, so let's use it in a polite manner okay?
'Westminster bubble' - which was first recorded being used in 1998 - has also made it in to the dictionary and it us used to describe the tight community of politicians, journalists and civil servants who appear to be out of touch with ordinary person. We can all relate to this one, right?
Another word that has been included in the dictionary update it 'gender-fluid' which refers to people who don't identify as either male or female. Despite not being made official, we've been using this one since 1987.

Picture | iStock
A few foodie terms have also pushed their way in such as 'cheese-eating', 'chef de partie', 'chef de cabinet' and 'chefdom' - which refers to the status achieved by a chef.
Cheeseball has also been added and is used to describe someone or something lacking taste, style, or originality; or the breaded and deep fried cheese appetizer!
So for all of the cheese-lovers out there: you've officially made it in to the Oxford English Dictionary!