This Mum Owns Her Family WhatsApp Group With One Killer Sentence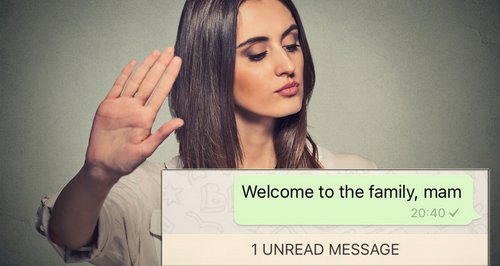 She's the sassiest women on the planet...and we LOVE it!
When Dave McGinn bought his mum a Smartphone for her birthday... he had no idea the mayhem he was about to unleash.
However, when the Irishman added his mum to the family WhatsApp group, he soon discovered that she was a force to be reckoned with.
Far from starting the conversation with pleasantries, super mum dives straight in with a serious put down!
My dad bought my mam a smartphone for her birthday, and she has just been added to the family WhatsApp group pic.twitter.com/lmUV87lWfG

— Dave McGinn (@davemcginn_ie) August 17, 2016
Looks like she's got a feel for things pretty quickly!
The sassy comment drew much praise on Twitter:
@davemcginn_ie What a come back. Yer ma's a legend. @Tracy_Keogh

— Chris Barrett (@cr15b) August 17, 2016
Some suggested the tech wizard try other means of Social Media too:
@davemcginn_ie she's taking to it like a duck to water. Has she tried Twitter yet?

— Mary G McG (@MaryGMcG) August 17, 2016
Other Twitter users also got involved to share their stories of their own family WhatsApp groups:
@ms_caoimhe @davemcginn_ie @UnaMullally 4 countries, 2 continents here. My aunt hasn't bought a book in mths, just reads group msgs at night

— Gavin McMahon (@gavinmcmahonco) August 17, 2016
With one user even suggesting she gets her own show:
@davemcginn_ie Your mum deserves her own show

— Aoife Somers (@aoifesomers) August 18, 2016
We think it's safe to say, she owned this. One in the bag for mum's everywhere!