The New iPhone Could Be Waterproof, But Apple Might Never Actually Tell Us!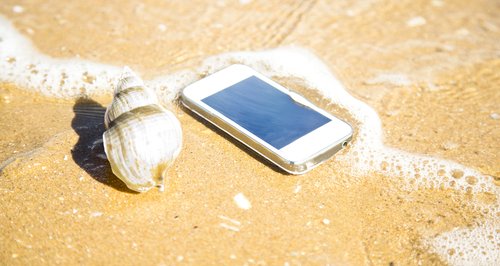 There are rumours afoot that Apple's new iPhone is set to be waterproof, but we may never know!
It's clear that Apple have been trying to make their iPhones sturdier and sturdier with the introduction of different shapes and sizes over the years - it seems we'll never learn to stop dropping them!
But aside from dropping them, the ultimate in iPhone tragedies worldwide is water damage.
Since what feels like the dawn of time (we couldn't imagine a word without smart phones!) people have been accidentally dropping their iPhones down the loo, into the sink or into the swimming pool on holiday.
Bags and bags of rice have tried both successfully and unsuccessfully to fix our soggy devices after a mishap, but wouldn't it just be great if they were waterproof to begin with?
Apparently the new iPhone 7 - expected to be revealed by Apple in the autumn - will be fully waterproof, but it may never be officially announced that it is.
The speculation has come to light after Apple submitted a patent for technology that allows the iPhone camera to take pictures properly underwater.
Surely this means they've already cracked waterproofing the whole device, right?
We can only hope! But just in case we will be keeping our phones high and dry.