Want Ultimate Proof That Times Have Changed? Just Look At The Football!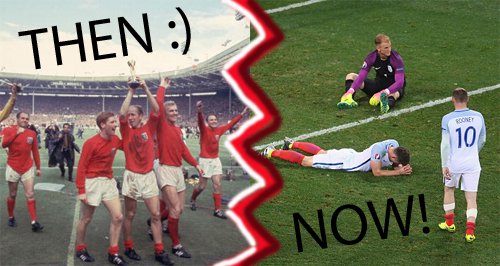 Tattoos, weird haircuts, diving to the floor and rolling around in 'agony'...it can only be footballers! So what happened to the good old days?
Nothing makes us feel more nostalgic than pick & mix...oh no WAIT the dial up internet noise....NO the 1966 World Cup win!
Okay, so lots of things make us feel nostalgic, but England's World Cup win in 1966 gives us the ultimate feels.
But Bobby Charlton (and his combover) and the lads were from a different time, when football was just a sport with a ball, not a way of life.
In his new book '1966: My World Cup Story', Sir Bobby talks about the nation's past-time with the same sentimentality as your grandma talking about knitting...there's not a swear word in sight!
This is a bit different from the footie stars of today, right? Here are a few ways times have most definitely changed...
Mild manners vs Swearing
Back in the day a football star would have been in the minority if they got themselves in trouble...nowadays we're lucky if we go a week without seeing a footie star stumbling out of a posh A-list nightclub! With their VIP status, massive social media following and the paparazzi attention, it's certainly a different world for today's sporting stars.
Passing the ball vs Diving like a lunatic
Football may have been a slower game in 1966, but today it's just full of lads dramatically diving like Shakespearean actors and writhing around on the floor (even though they're absolutely fine!). Check out this class snap of some classic football action...
What's jewellery? vs Blinged Out
After his last game for Manchester United, Sir Bobby was presented with a carriage clock...awwww! Today, footballers are kitted out with diamond necklaces and Rolex watches like pop stars, or sharing yachts with Leonardo DiCaprio. Well, the England team all needed a good holiday after that naff old performance in the Euros...or just an escape route!
Clean shaven vs Bearded and tattooed
Footballers today are obsessed with tattoos, designer stubble and unusual haircuts! You'd have never seen this level of preening in '66...
Mystery wives vs Ultimate WAGs
Sir Bobby's book includes loads of anecdotes, including a time when, during a celebratory FA Cup dinner, the team's wives had to sit in another room because they couldn't all fit! Nowadays, WAGs are completely in the spotlight, on the cover of lad's mags and even creating fashion brands (yes, Victoria Beckham, we're looking at you!).
Can you imagine the pressure...they're braver women than us!
The simple life vs The spotlight
In his book, Sir Bobby tells the story of 1966 squad member John Connelly, who returned to his home town of Burnley to run a fish and chip shop! Now's that's modesty. Pretty sure Joe Hart being the face of Gillette is slightly less modest. LOLZ.

Winning vs Losing
We're just going to leave this one here! #Euros2016
Are you feeling a tad nostalgic now? Sorry...