This Weird Optical Illusion Majorly Confused Tube Passengers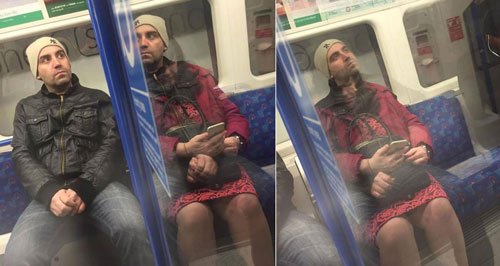 Does this picture make you do a double take?
An eagle-eyed computer had to look twice when passengers' bodies seemed to merge into one on the London Underground.
The optical illusion was caused by a pane of glass, which almost magically transposed a woman's dress onto a man's body!
Reddit user 'lolihull' spotted the strange sight and couldn't resist taking a picture. The passenger told the Standard newspaper: "He was sitting opposite me on the fold down chairs. I was looking down at my phone and I looked up and noticed this man wearing a dress and had to do a double take.
"My reaction was to take a picture to show my friends - they thought it was funny and encouraged me to post it on Reddit. "[The man and woman] were sitting next to each other and I had the glass partition next to me and that caused the reflection of his head onto her body."
The image was posted on social media site imgur and has received more than 30,000 views.
What do you reckon?
If anything is going to get Londoners talking on the tube, we reckon this could do it!